Follow our path on Ex-Post Sustainability and Resilience Seasonal Joy
Rarely do we get to teach, innovate, learn, and expand a hidden corner of one's field. This is what is I am experiencing, and the Fund is sharing. Here is the Adaptation Fund's ex-post project evaluation of sustainability and resilience path and progress in 2021.
I am quoting liberally and highlighting our work from the Adaptation Fund's website where their commitment to learning from what lasts is clear. "Ex post evaluations are a key element of the AF-TERG FY21-FY23 strategy and work programme, originating from the request of the Adaptation Fund Board to develop post-implementation learning for Fund projects and programmes and provide accountability of results financed by the Fund. They intend to evaluate aspects of both sustainability of outcomes and climate resilience, and over time feed into ex-post-evaluation-informed adjustments within the Fund's Monitoring Evaluation and Learning (MEL) processes."
How are we defining sustainability's path to evaluate it? Here is a flowchart from our training:
There are four phases from 0 to 3:
Phase 0 Foundational Review: Not only was this work preceded by months of background research on both evaluability of their young portfolio (e.g., under 20 of the 100 projects funded were closed at least three years, a selection criteria we had) and secondary research on evidence of ex-post sustainability evaluation in climate change/ resilience across the Adaptation Fund's sectors.
Phase 1 Framework and Pilots Shortlist: Our Phase 1 report from mid-2021 provided an overview of the first stage of ex-post evaluations, outlining methods and identifying a list of potential projects for ex-post evaluation pilots from the Fund's 17 completed, evaluated projects. The framework presented in the report introduced possible methods to evaluate the sustainability of project outcomes, considering the characteristics, strengths, and weaknesses of the Fund portfolio. It also presents an analysis tool to assess climate resilience, bearing in mind that this area is pivotal to climate change adaptation yet has rarely been measured.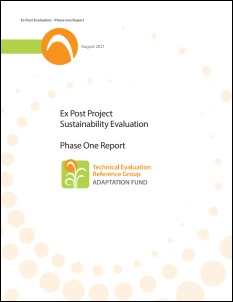 The Phase one report on ex post project sustainability evaluation
Vetting and pilot selection, revised design for evaluating sustained outcomes related to resilience to climate change. Key aspects are: 1) Timing (3-5 years since closure or projects at least 4 years long within the last 5 years and seasonality matches the final evaluation) and 2) Good quality of implementation and M&E with measurable outputs and outcomes traceable to impact(s) and 3) Safety to do fieldwork re: Covid, civil peace, etc.
We (my so-clever colleagues Meg Spearman and Dennis Bours) introduced a new resilience analysis tool that includes consideration of the climate disturbances, the human and natural systems (and their nexus) affected by and affecting project outcomes. This includes five characteristics of resilience in the outcomes (presence of feedback loops, at scale, plus being diverse, dynamic, and redundant) and means/actions to support outcomes. Resilience can be identified via a clear summary of the structures (S) and functions (F) that typify Resistance, Resilience and Transformation showing where a project is and is moving towards. It is a typology of resistance-resilience-transformation (RRT) onto which the overall project can be mapped based on how actions are designed to maintain or change existing structures and functions. That was integrated into the Adaptation Fund resilience evaluation approach.
Phase 2 Methods Testing and Ex-post Field-testing: Training of national evaluators and piloting two ex-post evaluations per year includes selecting among these methods to evaluate sustainability ex-post plus the RRT and resilience measures above. In the first ex-post in Samoa's "Enhancing Resilience of Samoa's Coastal Communities to Climate Change" (UNDP) happening December 21, it is through qualitative evaluation of wall-infrastructure. The second, Ecuador's "Enhancing resilience of communities to the adverse effects of climate change on food security, in Pichincha Province and the Jubones River basin "(WFP) has training completed and fieldwork should be from January 22, likely be of food security assets and methods TBD.
Phase 3 Evaluations continue, with MEL Capacity Building: Two more years of ex-post pilot evaluations (2 per year) with lesson informing integration into the MEL of the Adaptation Fund. We are already finding out lessons of rigor, of knowledge management, of unexpected benefits of returning years after closure, including indications of sustainability and resilience of the assets, with much more learning to come.
Innovations include "the relative novelty of climate change adaptation portfolios and the limited body of work on ex post evaluation for adaptation, it presents possible methods that will be piloted in field-tested ex post evaluations in fiscal year 2022 (FY22)." This includes piloting shockingly rare evaluation of oft-promised resilience. In the update to AF's Board three months ago, it transparently outlined shortlisting of five completed projects as potential candidates for the pilots, of which two projects were selected for ex post evaluations. It outlined our process of co-creating the evaluation with national partners to prioritize their learning needs while building national capacity to assess sustainability and resilience of project outcomes in the field onward.
Also, training materials for ex post pilots are being shared to foster country and industry learning, focusing on evaluating projects at ex-post and emerging sustainability and resilience, as well as presenting and adapting methods to country and project realities.
The training material for ex-post pilots
The training had three sessions (which could not have happened without colleague Caroline's expertise):
Part A: Understanding ex-post & resilience evaluations. Introduce and understand ex-post evaluations of sustainability and resilience, especially in the field of climate change adaptation
Part B: Discussing country-specific outcome priorities and co-creating learning with stakeholders. Discuss the project and its data more in-depth to understand and select what outcome(s) will be evaluated at ex-post
Part C: Developing country-specific methods and approaches. Discuss range of methods with the national evaluator and M&E experts to best evaluate the selected outcome(s) and impact(s)
Overall progress can be seen in the document updating the AF's board: A progress update on ex post evaluations (AFB/EFC.28/Inf.4)
So in 2018 I Wished for Sustained Outcomes to be explored and in 2019 I Wished again for more Ex-post Evaluation than Needles in Haystacks. In  2021 some of these wishes are becoming fulfilled!  Seasonal Happiness for me is learning about resilience to climate change, diminished vulnerability and searching for proof of sustainability and emerging outcomes and impact(s) and I am grateful to the Adaptation Fund for its commitment to sustainability.
Accompany us on this path, cheer us on, and do your own ex-post sustainability and resilience evaluations! Happy holidays from the Czech Republic!